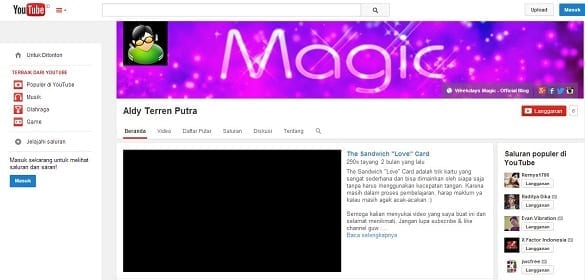 5 Video Populer Weekdays Magic ini sengaja saya tuliskan pada blog sederhana ini. Karena, banyak dari teman-teman semua yang belum mengetahui dimana kalian bisa menemukan informasi mengenai weekdays magic. Nah, sebelum saya menuliskan video populer weekdays magic saya akan menjelaskan sedikit apa sih weekdays magic itu?
Weekdays Magic, sebenarnya saya tidak pernah terpikir untuk membuat sebuah acara diyoutube dan memberi nama seperti ini. Mulanya, saya hanya iseng mengupload video pembelajaran saya mengenai dunia sulap kartu agar tidak lupa apa saja yang telah saya pelajari. Sesuai dengan namanya, weekdays magic adalah daily card trick yang berorientasi pada sulap kartu yang akan saya upload setiap hari kerja.
Nah, berikut ini adalah 5 video populer weekdays magic yang saya ambilkan berdasarkan jumlah penayangan pada channel http://youtube.com/putraaLdy yang akan saya urutkan dari posisi kelima :
5. My First Routine – WeekdaysMagic
4. The Mercury Aces – #WeekdaysMagic
3. Focus To The card
2. Basic Card Tutorial
1. The Sandwich "Love" Card
Nah, gimana? Sekarang sudah lihat kan apa saja yang ada di #WeekdaysMagic ?? Silahkan loh kalau teman-teman mau subscribe, comment atau apapun jangan sungkan menuju http://youtube.com/putraaLdy. Oke, sekian dulu ya informasi saya mengenai 5 Video Populer Weekdays Magic.