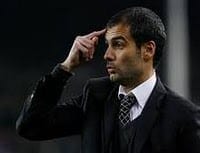 Biography Of Pep Guardiola – Josep Guardiola i Sala kini lebih dikenal dengan panggilan Pep Guardiola. Ia Mantan Punggawa lini belakang Barcelona yang kini berprofesi sebagai manajer klub catalan tersebut. Nama Pep Guardiola Mulai melambung ketika FC Barcelona dibawah asuhannya berhasil menyudahi puasa gelar dengan meraih tiga gelar atau treble sekaligus, yaitu La Liga, Copa del Rey, dan Liga Champions tahun 2008/2009.
Selain itu FC Barcelona juga menjadi tim tersubur di diantara jajaran liga-liga top Eropa dengan mencetak kurang lebih 150 gol di semua kompetisi. Guardiola menjadi manajer termuda yang memenangkan Liga Champions.Di musim berikutnya, Guardiola membawa Barcelona memenangkan Piala Super Spanyol lawan Athletic Bilbao dan Piala Super Eropa 2009 lawan Shakhtar Donetsk.
Josep Guardiola lahir 18 Januari 1971 di Santpedor, Catalonia Spanyol. Sebelum menjadi pelatih FC Barcelona Ia adalah seorang pemain professional dengan posisi Defensive midfielder. Josep Guardiola menghabiskan karirnya sebagai pemain di Barcelona.
Dia menjadi bagian dream team di bawah kepelatihan Johan Cruyff yang membawa Barcelona memenangkan gelar Eropa mereka untuk pertama kalinya. Guardiola menjadi kapten di 4 tahun terakhirnya bersama Barcelona.Klub-klub yang pernah disinggahi Guardiola antara lain FC Barcelona, Brescia, As Roma, Al-Ahli dan Sinaloa.
Sebagai pemain tim nasional Spanyol, dia memulai debutnya pada tanggal 14 October 1992 saat menghadapi Irlandia Utara saat kualifikasi Piala Dunia 1994. Di timnas Spanyol, dia bermain 47 kali dan mencetak 5 gol dalam rentang waktu 1992-2001. Dia juga sempat bermain untuk Catalunya selama 7 kali dalam rentang waktu 1995-2005.
Sekian dulu informasi sederhana saya mengenai Biography Of Pep Guardiola ini.Semoga para pecinta pep guardiola dapat menambah pengetahuannya dengan adanya sedikit artikel yang saya ambil dan saya sadur ulang dairi wikipedia ini mengenai Biography Of Pep Guardiola.