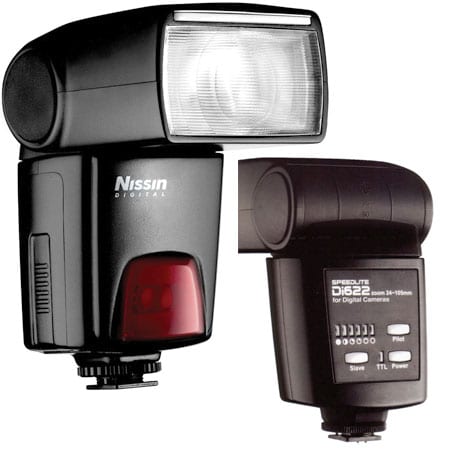 Spesifikasi Flash NISSIN Di622 Untuk Nikon – Kali ini saya akan berikan informasi mengenai Flash NISSIN Di622.Sebelum membelinya tentu kita harus tau Spesifikasi Flash NISSIN Di622 Untuk Nikon agar kita tidak salah dalam memilih Flash Untuk Nikon kesayangan kita.Dari pada panjang lebar saya harus berbasa – basi,mari kita lihat sedikit mengenai Spesifikasi Flash NISSIN Di622 Untuk Nikon.
Sebenarnya saya ingin membeli flash dengan merk EVO karena dengan harga yang terbilang murah dan jarang saya gunakan dalam jepret saya sendiri harga yang ditawarkan oleh pabrikan EVO ini sendiri masih terjangkau untuk orang sekelas saya.Namun,setelah membaca beberapa referensi yang berpengalaman saya menemukan pabrikan mengenai Flash NISSIN Di622 ini sendiri.
Berikut ini mari kita lihat Spesifikasi Flash NISSIN Di622 Untuk Nikon yang dapat saya berikan ini.
Flash NISSIN Di622 Untuk Nikon
Features

Canon E-TTL and Nikon i-TTL metering compatibility for precision and stability
The light distribution angle is automatically adjusted for the lens focal length. A high quality stepping motor sharply traces the lens movement with the same speed as that of the camera manufacturer's original flash model.
The flash beam covers the frame from 14mm (with a wide angle diffuser built-in) to 70mm of the digital lens. For a longer lens, the flash head reflector position stays at 70mm. It turns 90 degrees upward and 270 degrees horizontally for bounce lighting.
The Di622 has a special photo sensor built-in. Place the Di622 off camera and the flash will synchronize with the master flash placed on your camera. This wireless remote flash system is called slave flash technology and is often used for a creative lighting efficiency.
It automatically enters sleep mode when it's not in use for 5 min., and is reset with a touch of the shutter button or any button of the flash.
G.No.62(ISO 200) is obtained at the reflector position for 105mm focal length lens, and 45 at 35mm. (Reference: The guide number of the flash built in the camera is16 approx. at ISO 200)
When selecting manual power operation, choose from one of the six variable powers for the best lighting effect. The power level is provided from full power (G.No.62) down to 1/32nd power in 1.0Ev increments.
In darkness or dim light conditions, the Di622 beams a red light to create a sharp contrast to enable the camera's focus sensor to focus easily on the subject.
A firmware upgrade service is available for the Di466, which provides a service terminal to upload the latest software. A charge for the firmware update service will apply, varying depending on the area.

Flash Type : Shoe Mount
Guide Number at ISO 100 : 145ft / 44m at 105mm
Guide Number at ISO 200 : 205ft / 62m at 105mm

Angle of Coverage

84-23° (24-105mm lenses in 35mm format)
94.5° (20mm with Wide Panel supplied)

TTL Dedication : Yes
Bounce Head : Yes
Swivel Head : Yes
Zoom Head : Yes
Off Camera Terminal No
Recycle Time : Approx. 6 sec with alkaline batteries or 4 Seconds with NiMH Batteries
Power Source : 4 x AA Alkaline or NiMH Batteries (not included)
Dimensions (W x H x D) : 140 x 76 x 51mm
Weight : 315g
Package Contents Shoe Stand, Flash Pouch
Sudah dulu ya informasi yang dapat saya berikan untuk teman – teman semua mengenai Spesifikasi Flash NISSIN Di622 Untuk Nikon ini.Semoga apa yang saya berikan dapat membantu semua teman – teman memilih Flash setelah membaca artikel Spesifikasi Flash NISSIN Di622 Untuk Nikon.