Pertama kali kalian melihat judul artikel ini, pasti kalian akan tertawa. Mengapa? Karena kalian akan berpikir untuk apa saya sharing tentang memperpendek URL link artikel? Sepertinya diluar sana orang-orang sudah terbiasa untuk melakukan hal ini dan bukan menjadi hal asing bagi mereka.
Iya! Betul banget, diluar sana banyak yang sudah tahu mengenai hal ini. Tapi, apakah kalian berpikir perasaan orang lain yang belum tahu caranya? Nah, kalau kalian sudah tahu saran saya lebih baik close tab sekarang daripada sia-sia membaca artikel ini :)
Sebenarnya, banyak situs yang menyediakan fitur ini untuk kalian gunakan. Mulai dari google shortener, bit.ly atau yang lainnya. Tetapi, bagaimana kalau kalian ingin memiliki url shortener sendiri seperti http://aldyputra.net/ContenPlacement ini?
Nah, sampai sini semoga kalian tertarik ya sama artikel ini. Kalau masih ga tertarik juga, mending langsung ditutup aja blog sederhana ini. Oke, kalau memang kalian ingin memiliki url shortener seperti diatas syaratnya mudah. Kalian cukup menggunakan domain dan hosting sendiri, tentunya dengan menggunakan wordpress ya.
Memperpendek URL Link Artikel
Apa sih nama plugins di worpdress untuk memperpendek URL link artikel ini? Namanya Pretty Link, dan saya tahu hal ini dari salah seorang teman yaitu Tomi Purba. Bahkan, bukan hanya sekedar diberitahu oleh beliau saya pun diberikan secara gratis plugins tersebut.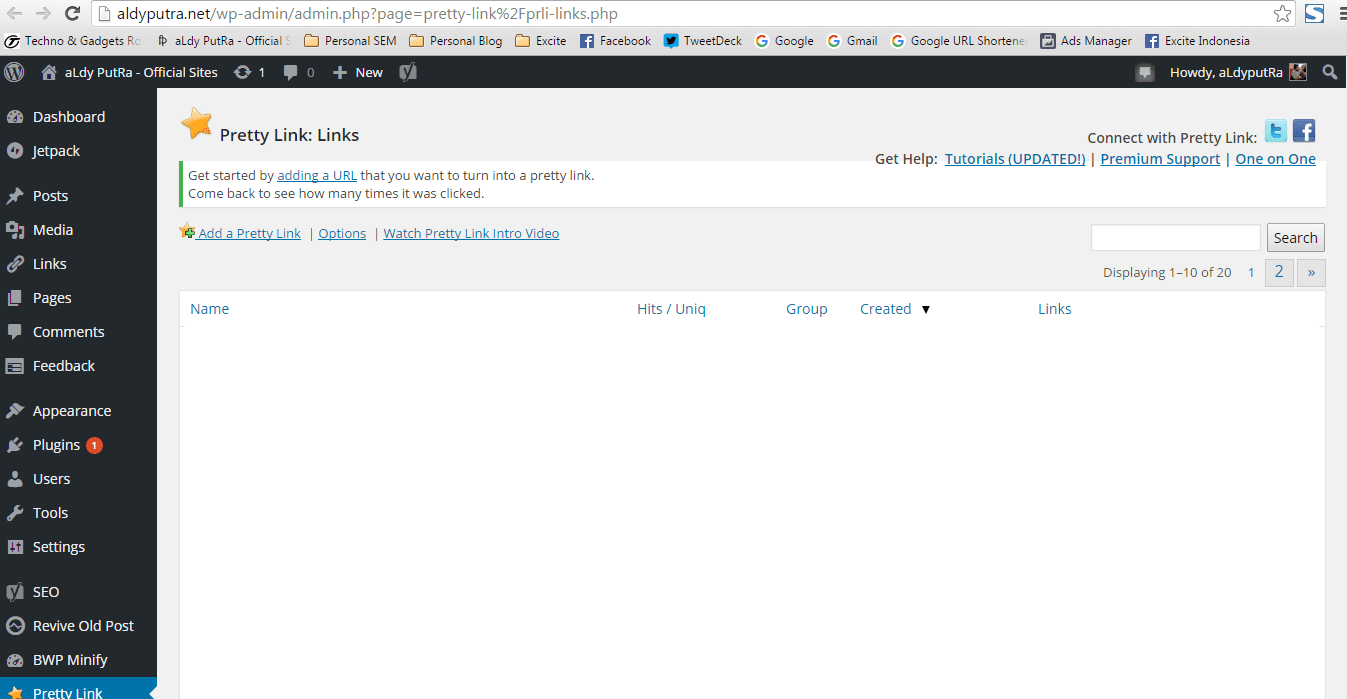 Diatas tampilan dari dashboard plugins tersebut. Gimana, cara pengoprasiannyapun mudah dan tidak terlalu rumit untuk digunakan. Namun, sangat disayangkan plugins ini hanya memberikan laporan sebatas berapa jumlah klik yang unik dan jumlah total orang yang melakukan klik pada link tersebut.
Biar lebih jelas, silahkan dibaca fitur apa saja yang ada didalamnya, ya!
Features
Gives you the ability to create clean, simple URLs on your website that redirect to any other URL
Generates random 2-3 character slugs for your URL or allows you to name a custom slug for your URL
Tracks the Number of Hits per link
Tracks the Number of Unique Hits per link
Provides a reporting interface where you can see a configurable chart of clicks per day. This report can be filtered by the specific link clicked, date range, and/or unique clicks.
View click details including ip address, remote host, browser (including browser version), operating system, and referring site
Download hit details in CSV format
Intuitive Javascript / AJAX Admin User Interface
Pass custom parameters to your scripts through pretty link and still have full tracking ability
Ability to rewrite these custom Parameters before forwarding to Target URL
Setup Pretty Links as Tracking Pixels and track impressions
Exclude IP Addresses from Stats
Enables you to post your Pretty Links to Twitter directly from your WordPress admin
Enables you to send your Pretty Links via Email directly from your WordPress admin
Select Temporary (307) or Permanent (301) redirection for your Pretty Links
Cookie based system for tracking visitor activity across hits
Organize Links into Groups
Create nofollow/noindex links
Turn tracking on / off on each link
Keep users on your site even when being redirected by using the PrettyBar which stays at the top of the page
Configure the PrettyBar to mirror the look and feel of your website
Great things you can do with Pretty Link
Clean up / mask affiliate links or merchant shopping cart links
Track the effectiveness of email campaigns by embedding Pretty Links in your emails
See how many times an email is opened by creating a "Tracking Pixel" Pretty Link and embedding it in the email
Kickstart and Fuel the SEO on your site by posting Pretty Links from your site on Digg, Twitter, Facebook, other blogs and everywhere else on the Internet.
Create Pretty Links for private special offers (to your email list) using a randomized slug to prevent the URL from being "guessed"
Write custom scripts in PHP, Ruby on Rails, ASP or anything else that accept parameters and use Pretty Link to make their URLs "pretty" and forward on the parameters
Setup pretty links for your zip, pdf & binary files and track how many times they are downloaded
Use to track results of your PPC campaigns by setting your ads to go to Pretty Links
Track Everything!
Gimana, sudah baca penjelasan mengenai plugins yang satu ini? Terus, kalau mau download gimana? Langsung aja DOWNLOAD DISINI ya. Sengaja yang saya berikan adalah versi lama, jangan diperbaharui ya. Karena, sepemahaman saya untuk versi terbaru kalian tidak bisa custom url menjadi yang kalian inginkan. Udah pernah pakai? Share pengalaman kalian yuk di kolom komentar!